idioglossia [Gr. - of distinct tongue], a form of dyslalia in which the person affected consistently makes substitutions in his speech sounds to such an extent that he seems to speak a language of his own.
"Idioglossia" doesn't have the sexy ring of a blockbuster movie title, but it was the painstakingly accurate title of Mark Handley's original source material, a stage play about Nell, a "wild child" from the Great Smoky Mountains who spoke her own language. Raised by her mama in complete isolation from society for decades, she and her mother developed their own form of English. When the mother finally died, the State of North Carolina had on its hands a thirty year old woman who was incapable of communicating with the world, or understanding its ways, but who owned just about enough property to form her own state.
How does the Modern State come to grips with such a situation in a compassionate and civilized world? In this story, the courts assigned two psychologists to study the woman, to learn to communicate in her idiolect, and to make a recommendation back to the court. I think that is the way we humans would like to visualize ourselves disposing of such a case, just as we all like to envision ourselves as champions of educating our children. In the real world, teachers generally have too many students and are rarely allowed to do their jobs, while social workers have so many cases to handle that it is unlikely that two such compassionate, intelligent, high-level professionals would be assigned full-time to a single case for three months. If such a thing were possible, however, the result might turn out something like it did in this film. At least I like to think it would. Like most of us, I would like to believe that the failings of our species can be attributed more to our limited resources than to some kind of malice intrinsic to our natures.
There are many different reasons why we love people, and there are just as many reasons why we love movies - entertainment, education, emotional stimulation, thrills, and intellectual engagement, to name a few. One of the most powerful reasons is that some films have the ability to mix images and sounds and ideas in a way that penetrates into the deepest levels of our brain, transports us into a different mood, and makes us aware, if only for a short time, of the greater possibilities of humanity. We call them "feel-good" movies, often with a sneer of contempt attached, but I mean for no pejorative meaning to be attached to that term here. Nell is a 'feel-good" movie that is intended to open our eyes to see the luminous angels which can sometimes lurk inside of us.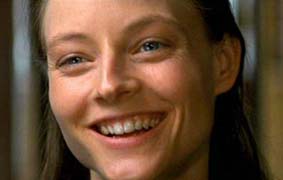 Some critics felt that the film was false. In some ways they are right. It may have some clumsy moments and artificial elements. Foster looked much too beautiful for the role, for example. Look at the picture to the left. Does that look like the dentition of a woman raised in the woods, without contact with civilization for 25 years? That certainly struck a false note. In my opinion, the film would have worked better if Nell had looked like what such a person really would have looked like, and that lack of physical beauty would have made the script richer as well. It is always easy for us to love beauty, but it's a greater triumph if we can overcome superficial ugliness to find inner beauty.

In general, however, those sorts of problems seem like quibbles in light of the film's greater generosity of spirit. The script handles an ambitious and difficult premise in a reasonable and thoughtful way.